Animal Health Center is a complete veterinary clinic and hospital for dogs and cats.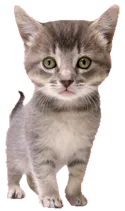 Appointments

Our appointment book is computerized which allows us to efficiently make appointments for you and your pet. Our receptionists and team will attempt to accommodate all requests to the best of our ability. Drop off appointments are an option at no additional charge. Emergencies are accepted anytime our clinic is open. If you feel you have an emergency with your pet, please call us or come to the hospital immediately. If possible it is best to call before coming in so that a staff member can advise you on your particular emergency.
Emergency & Urgent Care

In case of an emergency call our clinic number: 870-425-8272 during and after business hours for immediate assistance.
Types of Pets Seen
Dentistry
Dermatology and Ear Disorders
Laboratory Procedures
Radiology & Ultrasound
Surgical
Daycare
Have a doctor appointment, remodeling at home or just need the day out to go shopping but feel guilty about leaving your pet at home? Bring them for daycare at our clinic where they will enjoy interaction with our staff and will always be happy to see you when you pick them up.
Boarding

We offer boarding daily including holidays for your convenience. The same staff that assists doctor in exams and surgery are the staff that cares for your pet while boarding for your peace of mind. We offer the convenient hours of 9 - 9:30 am and 4 - 4:30 pm for drop off or pick up on weekends and all holidays.
Grooming

Grooming services will be available in the near future.
Payments

Animal Health Center accepts payment via cash, check, MasterCard, Visa, Discover and Care Credit. So that we can continue to provide you high quality service utilizing the best medical technologies, we request that payment be made at the time services are rendered.
We provide estimates for all surgeries and hospitalizations. If you have not received an estimate, you are welcome to request one at any time for your expected charges.